Fake pregnancy and paternity industry exposed!
Fake pregnancy and paternity industry exposed!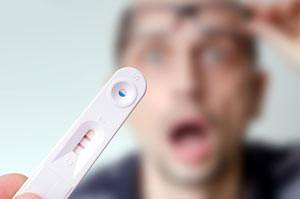 Any woman who wants to pull off the "You're a daddy" Scam can easily obtain a multitude of fake pregnancy and paternity products to help her create a convincing con. 
Pregnancy tests rigged to always turn out positive are readily available online. And that's just the beginning of the falsifying fatherhood industry.
There are businesses whose entire product lines are devoted to faking pregnancy. Many of the products are even sold on Amazon!
Pregnancy is a method of choice for some women who aim to trap a man or capture his money.
Some women don't let not actually being pregnant get in the way of them landing their prey. They just make him think he's going to be a father. They fake it until they make it. They fake a pregnancy or paternity test to trap their man or his money.
I had heard of women selling positive pregnancy tests on Craig's List. To investigate this for a blog post I was writing about the red flags that a pregnancy is a trap (8 Red Flags That The Pregnancy is a Trap*), I googled fake positive pregnancy tests.
OMG! What I found was astounding. There is an abundance of readily available products to help women trick a man into believing he is a father or father-to-be.
They claim that the products are for "pranks," but there can be no doubt that the bulk of their customers are not in it for getting a laugh. And some of the websites speak directly to being discrete and protective of their customer's identity—which seems overly clandestine for a "prank," but very appropriate for a high stakes con.
Here's what my online search turned up in order of badness:
1. Simple and relatively easy to spot
The simplest fake positive pregnancy test is about $5 and is cheaply packaged in plastic.
Here's the description of the product on Amazon: "It's the home pregnancy test that is always positive! Ladies, now you can find out if you've found Mr. Right with this hilarious prank! Will he stick with you if he thinks things will get complicated? This outrageous prank will have your guy sweating! Or sleep with your married boss and watch him squirm (Maybe you'll get a raise!) The laughs are endless!"
2. Real looking fake brands
Next up, there are several brands of pregnancy tests that are in boxes that look legitimate but they are designed to display a positive result.
Their names are True Results, Fast Results, and Right Time.
One of them says: "Engineered to turn positive every time. Includes two sealed tests, fake instructions, and a professionally designed package. Absolutely no way for anyone to know the test is a fake."
3. Bastardized real pregnancy test kits by popular legitimate brands
These fake positive real pregnancy test kits are offered in two versions. One version is classified as "already positive." The other version is guaranteed to show positive when moistened: "Just use water, urine, etc and it will turn positive."
They come in an original box, with original instructions, and the test wand wrapper is made to look authentically intact. One source describes the attention to the details of the con: "Comes in original foil wrapper with a little cut in the end under the flap."
One brand of false positive test kits sells on Amazon for about $50. (Sounds like a lot of money to spend on a "prank," but a small price to pay to trap a man into taking care of you.) There are other sources online for many other national brand kits. 
But, the fake "You're a daddy" industry doesn't stop there.
4. Doctored doctor reports
It is easy for a woman to buy reports that make it look like a doctor or other medical professional is officially declaring her a mommy-to-be or that a man is a daddy.
Official looking pregnancy scam documentation available online:
personalized positive pregnancy blood test documentation,

personalized baby ultrasound (sonogram) photos, and

DNA paternity test result declaring the man of her choice as the father.
Freelancing It (I don't know where to put this one on my order of badness)
As an alternative to the multitude of fake positive test kits, pregnant women's urine is available for sale. On Ebay, you can buy "Positive for Pregnancy! Pregnant Urine Sample Specimen QUICK, FREE SHIPPING!" (Their capitalization and exclamation mark.)
How to Protect Yourself
The only way to be sure about the result of an at-home pregnancy test is to secure the entire chain of custody on the test kit:
buy the test kit at the store yourself,

never leave it out of your sight,

hand it to your partner,

watch her pee on the test-wand, and

watch the wand while the result is appearing.
Don't accept pregnancy blood test or paternity test results that are handed to you at face value.
Get your own paternity test. Control how the result is received so that she can't intercept it and substitute an altered report.
Go to doctor appointments with your partner to hear for yourself whether a medical professional declares her pregnant.If you ask to go to doctor appointments and your partner makes excuses why you didn't end up there with her, that's evidence that she is working a cover-up.
Get away from any woman you catch trying to pass off false test results. Clearly, she is manipulative. She is dangerous to you! (I'm not saying she's necessarily physically dangerous, but there are other kinds of danger—emotional, psychological, financial. . .).
Disclaimer
I get it that sometimes there are accidental pregnancies. Most girlfriends that say they are pregnant are pregnant. But clearly, there is a big market for women who want to fake it. Those are the ones I'm trying to help men avoid being trapped by
Trapping a man with a pregnancy and other forms of taking his reproductive rights away is partner sexual abuse.
I write about all forms of partner abuse where women are the sources of abuse and men are the targets in my book:
Abuse OF Men BY Women: It Happens, It Hurts, And It's Time to Get Real About It