Feeling is not a 4-letter word
Feeling is not a 4-letter word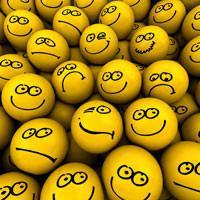 Some people act like feelings are something other people—lesser people—have, but not something they experience themselves. They act like feelings are bad.
This concept grows out of:
training from parents who had that same idea,

an overload of painful emotions, 

not knowing how to process emotions, and/or

contact with adults or peers who made acceptance conditional upon the "feelings are bad" code.
The reality is that feelings, or emotions, are an integral and crucial part of being human.
Emotions are tools that let us know what is going on between us and the world. They create a feedback loop that can inform your choices about what to think, do, and say.
For example: fear of big trucks on the move can keep you from walking out into the street as one passes by. Ignoring that feeling can be deadly.

If you don't pay attention to your emotions, they will still create behaviors in you, you just won't be as in control of those actions as you would be if you are conscious about your emotions.
For more about emotions, how to understand emotions and deal with them, check out my book:  
A quick look at Demystifying Emotions