Learn, Let Go, Lighten Up: Silver Lining Emotional Detox Journal and Workbook
Learn, Let Go, Lighten Up: Silver Lining Emotional Detox Journal and Workbook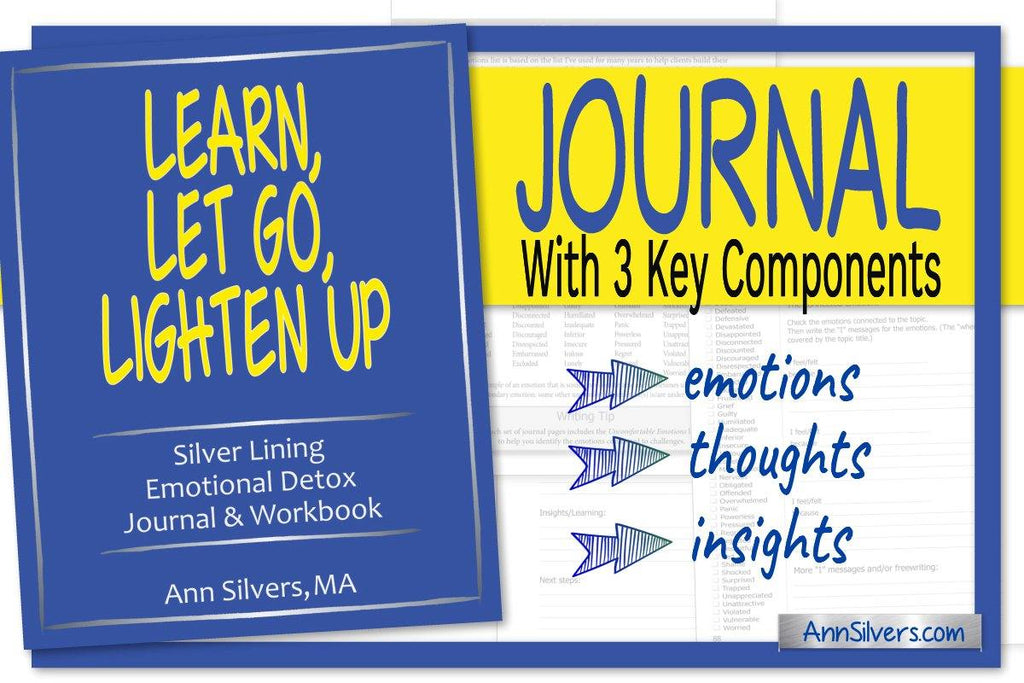 My Learn, Let Go, Lighten Up: Silver Lining Emotional Detox Journal & Workbook can help you process anything that weighs you down, stresses you out, or keeps you stuck so that you can learn from challenging experiences and feel lighter and happier. 
What's in This Post
 How "Learn, Let Go, Lighten Up" Came to Be
 Does Journaling Help?
 Why Learn, Let Go, Lighten Up
 Benefits of Journaling
 Writing Down Your Thoughts and Feelings
 Emotions List
 The Journal Writing Prompts
 Using the Journal to Manage Anger
Note: The contents of this post are not intended as medical advice or to replace consultations with personal mental health professionals. 
How "Learn, Let Go, Lighten Up" Came to Be
For many years, I had been encouraging my counseling and coaching clients to journal. Not in the traditional sense of write-about-your-day diary entries, but a more therapeutic journaling with the objective of processing and working through emotional discomfort.
I would explain how to do freewriting and sketch out a method of journaling that I had developed based on research along with personal and professional experience: starting with or an event, situation, person, or emotion as a title, write using a "negative" emotions list I gave them and the "I" messages emotion-processing method I taught them.
My journaling method explanations were accompanied by a rudimentary sketch with squiggly lines representing titles and sentence-starters.
I repeated the journaling explanations so often that I finally decided to up my game and produce printouts—with typed prompts instead of squiggly lines—that guided clients through the process. 
Through several years of testing client results, and adding and subtracting information, the ideas grew into a journal/workbook that I published: Learn, Let Go, Lighten Up: Silver Lining Emotional Detox Journal & Workbook. (available on Amazon.)
Does Journaling Help?
Many of my clients supplement the work we do together during appointments by using Learn, Let Go, Lighten Up between sessions.
The results have been exciting for them and for me. I'm thrilled to see how it speeds their learning and healing, improves their understanding of themselves, and helps them express themselves better to their partners and other people in their lives. 
"I'm surprised at how much the "Learn, Let Go, Lighten Up" journal is helping me.

It's great not to have a blank page staring back at me. The prompts help me get started.

In the past, I had a hard time expressing emotion. Now I'm learning to be comfortable expressing feelings.

The writing helps me feel better about myself because I can see more clearly that I've handled some things the right way and those things that I could have done better—the journaling is helping me not blame myself for.

I'm less anxious and less stressed out. Looking forward to life more than I have in as long as I can remember."

--J.C.  
Why Learn, Let Go, Lighten Up
"The suppression of negative emotion tends to reduce a person's ability to experience any emotion, positive or negative." (Healing Words, Dr. David Spiegel, JAMA.)
To put Dr. Spiegel's idea a bit differently: processing your emotional pain can let you feel more joy.
Emotions are information.
You can learn from uncomfortable/painful emotions (past and current), then you can let go of them and be much lighter:
lighter as in lit up with insight,
lighter as in less bogged down, and 
lighter as in happier.
You get a lightened up trifecta!
Benefits of Journaling
"As the number of studies increased,
it became clear that writing was a far more powerful tool
for healing than anyone had ever imagined."
—James W. Pennebaker
In the 1980's, journaling research pioneer, James W. Pennebaker (quoted above), found that people's physical health improved after they wrote about stressful situations, but only if the writing included their emotions. Study participants who wrote about stressful events but did not include their emotional experience did not experience improved physical health. (1)
Subsequent studies by Pennebaker and other researchers, such as Susan Lutgendorf, support that the mere recounting of facts related to stressful events isn't as helpful as journaling that includes the connected emotions, thoughts, and insights. When all three components are present in the journaling, the writers tend to improve physically and psychologically (less illness, less stress, less depression, better grades . . .). (2-7)
My experiences from a lifetime of dealing with my own traumas and challenges, and helping lots of my counseling clients deal with theirs, leads me to the same conclusions as these researchers.
Journaling can help with anxiety, depression, stress and anger management, relationships, trauma release, post-traumatic growth . . . and general well-being. 
"Using the "Learn, Let Go, Lighten Up Journal" has really brought down my stress level. 

Whenever I get stressed, I feel much better after I've had a chance to write in the journal. The emotion list and prompts help me figure out what's going on for me, helps me sort it out, and I feel relieved of the stress, my mind feels much clearer and ready to deal with the challenges.

The stressors are still there, but I'm dealing with them better and I'm much happier."

-A.W.
Writing Down Your Thoughts and Feelings
The journaling pages in Learn, Let Go, and Lighten Up are organized with prompts to help you dive into, and express, all three components that research says make up the most helpful journaling practices:
emotions,
thoughts, and
insights.
Emotions List
Each set of journal pages in Learn, Let Go, Lighten Up includes my list of 50 uncomfortable or painful emotions. 
The emotion words list is the "negative" emotions side of the 101 Emotions List that I developed and use in all my books and products for helping people with emotion and communication skills. 
The first step in processing your emotions is naming them.
When it comes to emotions, we tend to be taught four: mad, glad, sad, and afraid. (I call them the Famous Four.)
There are thousands of emotion words in the English language. Only knowing four is very limiting. It creates an emotional handicap that gets in the way of understanding the information emotions offer.
Having not only mad, glad, sad, and afraid but also labels like disappointed, frustrated, resentful, relieved, and appreciated can greatly improve your understanding of yourself and others. It helps you capture the information in the emotions and helps the emotional learn, let go, and lighten up process.
My list of 50 "negative", painful, or uncomfortable emotions on each set of journal pages helps you identify what you're feeling.
I hear from people over and over how much they appreciate the emotions list.
"The "Learn, Let Go, Lighten Up" journal is awesome!

Love the list of emotion words on the journal pages so I don't have to think of the words.

I notice that after I write about a situation in the journal, I can let go of it."

-B.R.
The Journal Writing Prompts
Writing prompts in Learn, Let Go, Lighten Up help you figure out:
what you are feeling
why you're feeling it
what your emotions have to teach you
thoughts connected to your experiences
insights/learning gained
ideas for next steps based on the writing experience, insights or learning 
"In the past, I've had a hard time expressing myself to my husband. I'd either not say anything and build up resentment, or I'd blast him with how I'm feeling.

Now, when I get upset, I call a time-out and go write in the "Learn, Let Go, Lighten Up Journal." 

It helps me get clear about what I'm thinking and feeling and why. Then I can go back to my husband and express my thoughts and feelings in a tactful way.

It's so helped our relationship!"

-M.L.
Using the Journal to Manage Anger 
There is some sort of other emotional pain under the anger that isn't being dealt with directly and gets turned into anger. 
The Learn, Let Go, Lighten Up Journal helps you identify what's under your anger and process those feelings so that you stop overreacting. 
References for the Benefits of Journaling, How to Write in Your Journal, Writing Down Your Thoughts and Feelings, and Keeping a Journal Tips
1. Pennebaker, J. W., & Beall, S. K. (1986). Confronting a traumatic event: Toward an understanding of inhibition and disease. Journal of Abnormal Psychology, 95(3), 274–281. doi:10.1037//0021-843x.95.3.274

2. Lepore, S. J., & Smyth, J. M. (Eds.). (2002). The writing cure: How expressive writing promotes health and emotional well-being. Washington, DC: American Psychological Association.

3. Pennebaker, J. W. (1997). Writing about emotional experiences as a therapeutic process. Psychological Science, 8(3), 162–166. doi:10.1111/j.1467-9280.1997.tb00403.x

4. Pennebaker, J. W., Mayne, T. J., & Francis, M. E. (1997a). Linguistic predictors of adaptive bereavement. Journal of Personality and Social Psychology, 72(4), 863–871. doi:10.1037//0022-3514.72.4.863

5. Smyth, J. M. (1998). Written emotional expression: Effect sizes, outcome types, and moderating variables. Journal of Consulting and Clinical Psychology, 66(1), 174–184. doi:10.1037//0022-006x.66.1.174

6. Smyth, J. M., Stone, A. A., Hurewitz, A., & Kaell, A. (1999). Effects of writing about stressful experiences on symptom reduction in patients with asthma or rheumatoid arthritis. JAMA, 281(14), 1304. doi:10.1001/jama.281.14.1304

7. Ullrich, P. M., & Lutgendorf, S. K. (2002). Journaling about stressful events: Effects of cognitive processing and emotional expression. Annals of Behavioral Medicine, 24(3), 244–250. doi:10.1207/s15324796abm2403_10