Stop Procrastination Now! - Anxiety Tip #12
Stop Procrastination Now! - Anxiety Tip #12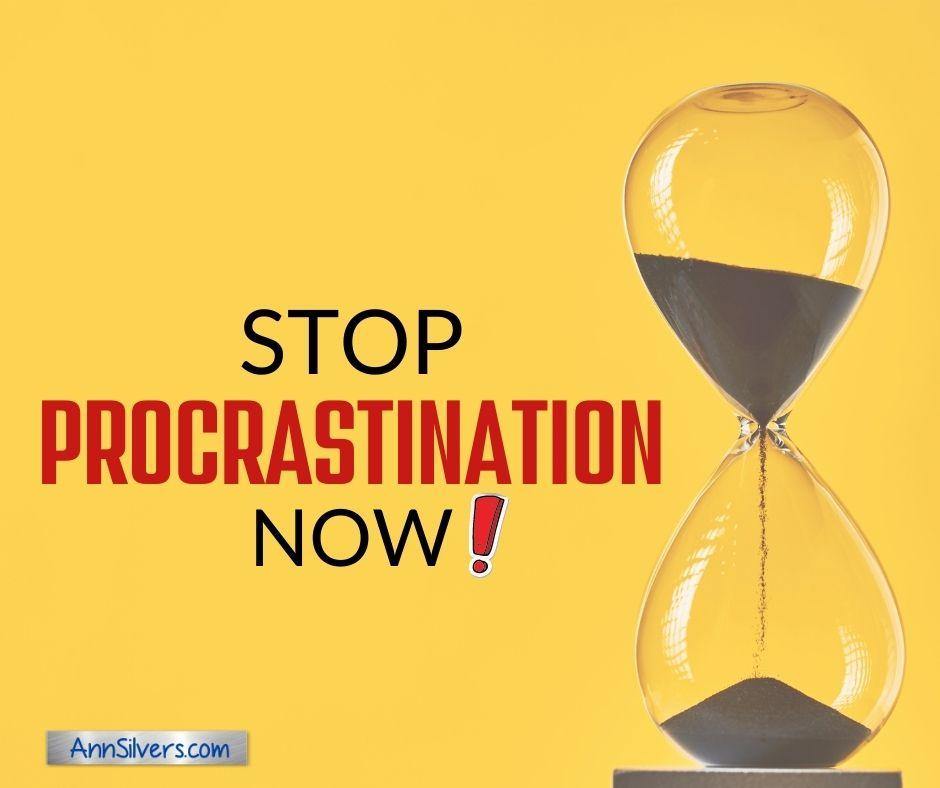 I would have had this article done sooner but I kept putting it off. Just kidding – a bit of procrastination humor. :)
Stop that feeling of impending doom and worry that time is running out (or has run out) on meeting deadlines large and small.
What's in This Post
 Procrastination Meaning
 Cost of a Procrastination Habit
 Procrastination and Stress
 Procrastination Can Cause Anxiety
 Anxiety Can Be a Cause of Procrastination 
 What's the Cause of Your Procrastination? 
 Anti-Procrastination Quotes to Help You Beat Procrastination 
 4 Steps to Stop Procrastinating
 Procrastination and Stress and Anxiety Help
Procrastination Meaning
Procrastination is putting off tasks that would be better done sooner. The better might be that you or someone else would feel better if the tasks were done sooner, or it might be that the job would be done better, or that your life would be better in some way.
Some people who procrastinate don't necessarily procrastinate about everything. They may put off working on some deadlines and projects while they tackle other things in a more timely way.
Cost of a Procrastination Habit
"The essence of procrastination lies in not doing what you think you should be doing, a mental contortion that surely accounts for the great psychic toll the habit takes on people.
This is the perplexing thing about procrastination:
although it seems to involve avoiding unpleasant tasks, indulging in it generally doesn't make people happy."
─ James Surowiecki
 "Procrastination is the thief of time." ─ Charles Dickens
Procrastination and Stress
Anxiety and procrastination are related in two ways:
Procrastination can create anxiety.

Anxiety can create procrastination.
Procrastination Can Cause Anxiety
It's not hard to see that leaving things until the last minute, or until it's actually too late to do a good job, or too late to get it done at all—can cause fear, stress, and anxiety.
The entire time between a deadline being set or a "to do" being acknowledged and the accomplishment of the task may be stressful and/or stress can appear and become more intense as the deadline approaches.
And the repercussions of not getting things done that needed to be done can create anxiety.
The symptoms chronic procrastinators exhibit are the symptoms of anxiety: their mind goes around with awfulized versions of bad outcomes, can't sleep because their mind won't shut down, feeling hopeless and overwhelmed.
Anxiety Can Be a Cause of Procrastination 
Anxiety saps your energy and distracts your mind. That emotional and physical draining and mental distraction gets in the way of focusing on what needs to get done and systematically taking the steps to achieve goals and deadlines.
Anxiety also plays into procrastination in another more direct way.
Research shows that some procrastinators are driven by fear of failure or fear of success.
Anxiety is heightened fear.
Fear of failure procrastinators worry what people will think of them when they have tried to accomplish the task so they put off working on the task. If there isn't enough time to complete the task then they can tell others, and convince themselves, that the poor job done doesn't reflect on their capability, just on the time for the task.
Fear of success procrastinators fear the repercussions to success such as raising people's expectations or becoming the center of attention, so they self-sabotage through procrastination.
Procrastinating about a particular "to do" might also be based in other fears connected to trying to accomplish that goal.
You could put off booking a flight because you are afraid of flying, procrastinate about paying bills because you're afraid you don't have enough money to pay them all, or drag your feet on responding to an invitation because of social anxiety.
What's the Cause of Your Procrastination? 
Which of these fit for you?
You may procrastinate because you:
allow yourself to focus on more "fun" things at the expense of what needs to be done,

lack self-confidence,

fear failure, 

fear success,

overestimate the amount of time left until tasks need to be completed and/or underestimate the time required to complete tasks,

are stuck in procrastination habits, 

are intimidated by the task,

find the task unpleasant, and/or

imagine the task will be less intimidating or more pleasant in the future (this could be true if something is genuinely going to change between now and then, but usually is magical thinking that backfires).
Anti-Procrastination Quotes to Help You Beat Procrastination 
Overcoming being distracted by more fun stuff
"Procrastination is like a credit card: it's a lot fun until you get the bill." —Christopher Parker
"You cannot escape the responsibility of tomorrow by evading it today." ―Abraham Lincoln
"Delaying gratification is a process of scheduling the pain and pleasure of life in such a way as to enhance the pleasure by meeting and experiencing the pain first and getting it over with. It is the only decent way to live." ─M. Scott Peck
Overcoming lack of self-confidence
"To do anything in this world worth doing, we must not stand back shivering and thinking of the cold and danger, but jump in and scramble through as well as we can." ─ Syndey Smith
"It is not because things are difficult that we do not dare; it is because we do not dare that they are difficult." —Seneca
"Focused action beats brilliance" – Mark Sanborn
Overcoming fear of failure
"The only difference between success and failure is the ability to take action." ─Alexander Graham Bell
"So what do we do? Anything. Something. So long as we just don't sit there. If we screw it up, start over. Try something else. If we wait until we've satisfied all the uncertainties, it may be too late." ─Lee Iacocca
"It was my fear of failure that first kept me from attempting the master work. Now, I'm beginning what I could have started ten years ago. But I'm happy at least that I didn't wait twenty years." ─ Paulo Coelho
Overcoming fear of success
"Our deepest fear is not that we are inadequate. Our deepest fear is that we are powerful beyond measure. It is our light, not our darkness that most frightens us. We ask ourselves, Who am I to be brilliant, gorgeous, talented, and fabulous? Actually, who are you not to be? –Marianne Williamson
Overcoming habitual procrastination
"Confront the difficult while it is still easy; accomplish the great tasks by a series of small acts." –Tao Te Ching
"How different our lives are when we really know what is deeply important to us, and keeping that picture in mind, we manage ourselves each day to be and to do what really matters most." —Stephen Covey
"The really happy people are those who have broken the chains of procrastination, those who find satisfaction in doing the job at hand. They're full of eagerness, zest, productivity. You can be, too." ─ Norman Vincent Peale
Overcoming finding the task intimidating
"You don't have to see the whole staircase, just take the first step." ─ Martin Luther King, Jr.
"Nothing in the world can take the place of perseverance. Talent will not; nothing is more common than unsuccessful people with talent. Genius will not; unrewarded genius is almost legendary. Education will not; the world is full of educated derelicts. Perseverance and determination alone are omnipotent." ─Calvin Coolidge
"The best way to get something done is to begin." ─Author Unknown
Tackle unpleasant tasks now
"Don't procrastinate. Putting off an unpleasant task until tomorrow simply gives you more time for your imagination to make a mountain out a possible molehill. More time for anxiety to sap your self-confidence. Do it now, brother, do it now." ─Author Unknown
"Putting off an easy thing makes it hard. Putting off a hard thing makes it impossible." —George Claude Lorimer
Overcoming thinking it will feel better later
"I don't wait for moods. You accomplish nothing if you do that. Your mind must know it has got to get down to work." ─ Pearl S. Buck
"Amateurs sit and wait for inspiration, the rest of us just get up and go to work." – Stephen King
Overcoming thinking conditions will be better later
" If and When were planted, and Nothing grew." ─ Turkish Proverb
"Procrastination makes easy things hard, hard things harder." —Mason Cooley
"When there is a hill to climb, don't think that waiting will make it smaller." —Author Unknown
4 Steps to Stop Procrastinating
(Don't put off working through this list step by step. :) )
1. Analyze for what hurts and helps.
What could get in the way of you accomplishing this thing? What could help?
2. Break the task down into doable steps.
Keep breaking down the task until you get to a small doable step. Set a time deadline for getting the step done.
3. Do a step.
If you are not getting around to doing the step, check to see if the task needs to be broken down further, and ask yourself the Step 1 questions.
4. Celebrate and repeat.
Give yourself a pat on the back for progress. (Yeah you!) Then tackle the next step.

Procrastination and Stress and Anxiety Help 
With anxiety being one of my counseling specialties, I noticed the connections between stress, anxiety, and procrastination a long time ago. 
Not all people who have anxiety procrastinate, but many people who procrastinate have anxiety.
My Becoming Calm: Silver Lining Reduce Anxiety and Increase Stress Resilience Workbook and Journal includes worksheets to help you stop procrastinating and lots more anti-anxiety help.