The Four Elements for Treating Mental Health
The Four Elements for Treating Mental Health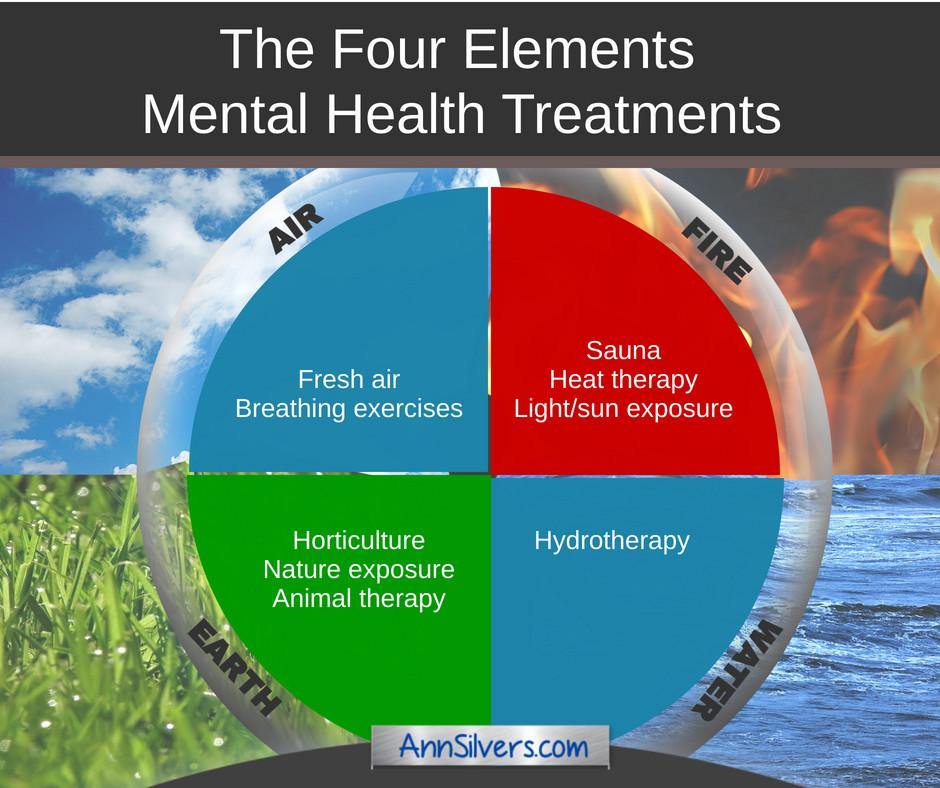 While investigating research into the mental health benefits of saunas, I came across an interesting article about using the Four Elements —Fire, Water, Earth, and Air—that are at the core of many traditional approaches to health and well-being around the globe, to think about possible natural remedies for mental health issues. 
The article authors from two Australian universities make connections between mental health and each of the Four Elements. They present the idea that saunas fit into the fire element of the Four Elements. 
Here's an excerpt from the article:
"Firstly, we are not proposing that therapeutic use of "the elements" should replace mainstream pharmacotherapy or psychological techniques. We are, however, suggesting that enhanced contemporary understanding (and requisite robust research) of this interplay may inform a potential use within an integrative treatment model for mental disorders." (1)
I created the graphic above based on their findings/suggestions.
For more about what I discovered about the mental health benefits of sauna use, check out my post: Physical and Mental Health Benefits of Using a Sauna
Reference
1) Sarris, J., de Manincor, M., Hargraves, F., & Tsonis, J. (2019). Harnessing the Four Elements for Mental Health. Frontiers in psychiatry, 10, 256. doi:10.3389/fpsyt.2019.00256 https://www.ncbi.nlm.nih.gov/pmc/articles/PMC6491965/