Stress Relieving Gifts for People With Anxiety from $5 to $1000+
Stress Relieving Gifts for People With Anxiety from $5 to $1000+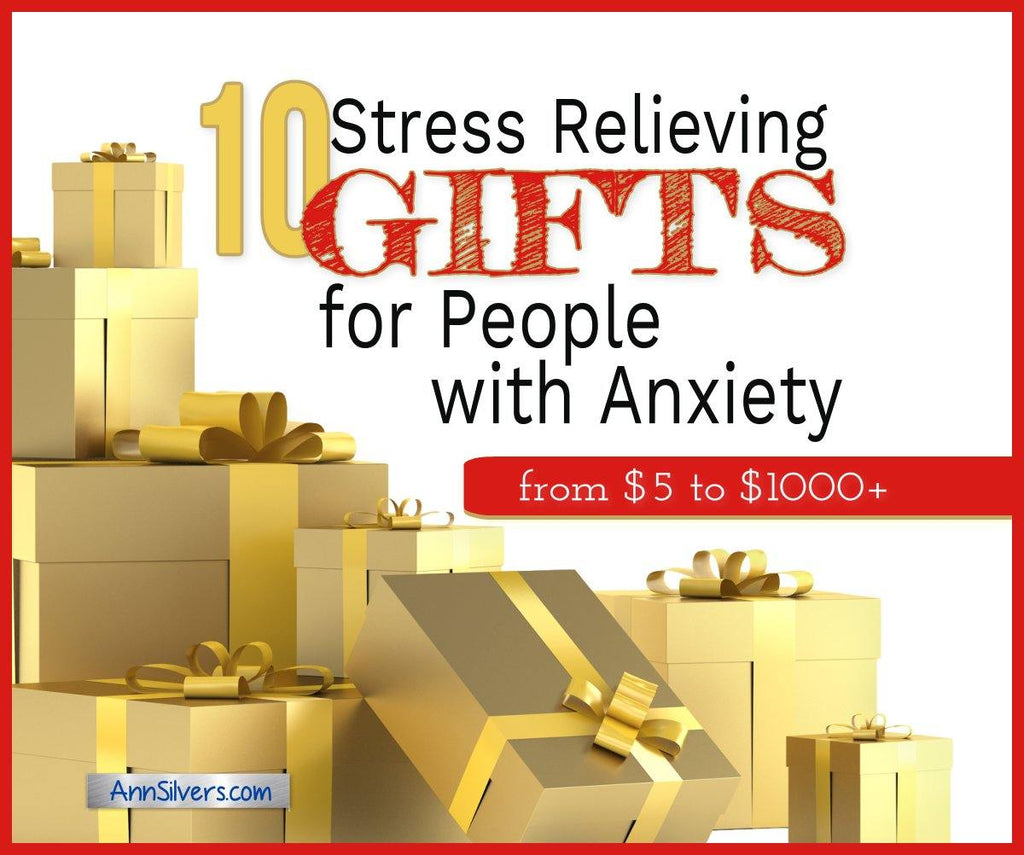 Since more than 40 million Americans are living with anxiety and almost everyone has to deal with stress in their lives, chances are that someone on your gift list could use a gift that improves their stress resilience. 
I've put together a list of 10 stress relieving gifts from under $5 to more than $1000 to give you lots of ideas. And I've included product links to make your shopping easy.
Notes: This article should not be taken as medical advice. It is always suggested that you check with personal medical professionals. I may receive a small commission for sales made through these links but it doesn't impact your price or my decision to mention particular products.
10 Stress Relieving Gifts for People with Anxiety
Herbal Tea
Epsom Salt
Coloring Books
Book: "Feed Your Calm: Anti-Anxiety Anti-Stress Diet and Supplement Tips for Stress Resilience"
Hypnosis or Meditation Recordings
Calming Essential Oils
Essential Oil Jewelry 
Fidget Spinner Ring
Weighted Blanket
Sauna
1. Herbal Tea for Stress Relief and Sleep
from under $5 
There are a number of herbal teas that have a reputation for being calming and for promoting sleep. Herbal teas have the anti-anxiety bonus of being naturally caffeine-free. (Caffeine can increase anxiety.)
Note: Herbs can have negative interactions with some pharmaceutical drugs and may have unknown or concerning effects for pregnant women or nursing mothers, so people should check with their doctor if these conditions apply. They should be careful about using these herbs while driving. It would be best to test their reaction to them late in the day in case the herbs cause drowsiness.
Herbs that may help you feel calm and help with sleep include:
Passionflower (Passiflora incarnata),
Chamomile (Matricaria recutita),
Lemongrass (Cymbopogon citratus),
Lemon balm (Melissa officinalis),
Valerian (Valeriana officinalis), and
Hops (Humulus lupulus).
Many companies make teas made from individual anti-anxiety herbs. For example, Buddha Teas has an organic tea for each of the listed nervine herbs. 
There is also a wide selection of teas that combine mixes of calming herbs. One example is Traditional Medicinals Organic Nighty Night Valerian Relaxation Tea that includes valerian, passionflower, and lemon balm.
2. Epsom Salt for Stress Relief and Sleep
from $10
Epsom salt is Magnesium Sulfate. Magnesium is great for relaxing both body and mind. It is used by about 600 chemical reactions in your body. You need it to deal with stress and you burn through it when you're stressed.
You can get oral magnesium supplements but you can also absorb magnesium through the skin—that's where Epsom salt comes in. You can use Epsom salt in a full bath or a foot bath to up your magnesium level.
It's great for relieving aches and pains, reducing stress and anxiety, improving sleep, eliminating restless leg syndrome, and much more.
Look for a brand that mentions purity. One example on Amazon is Ultra Epsom Premium Epsom Salt. 
You can also purchase Epsom salts with relaxing essential oils made from herbs such as those listed in #1 Herbal Teas and #6 Essential Oils. For example, Saltworks makes an Ultra Epsom version with Lavender added. There is also a bundle that includes both unscented and lavender. 
3. Anti-Anxiety Coloring Books for Stress Relief 
under $5 to $20
There's good reason for the adult coloring book craze. Research shows that coloring relieves stress and reduces anxiety. Some coloring books are designed with stress relief in mind. 
Mandalas are particularly relaxing to color as they are fractal patterns. Fractals are made of repeating shapes. 
"Viewing mid-range Fractals reduces your physiological response to stress by up to 60%."
— R.P.Taylor, Professor of Physics, Psychology and Art, University of Oregon 
You could gift a coloring book by itself or combine it with colored pencils or markers. Here are some examples:
The Art of Mandala: Adult Coloring Book Featuring Beautiful Mandalas Designed to Soothe the Soul  ($5)
Mandala Coloring Book For Adults With Thick Artist Quality Paper, Hardback Covers, and Spiral Binding by ColorIt  ($20)
4. Book: "Feed Your Calm: Anti-Anxiety Anti-Stress Diet and Supplement Tips for Stress Resilience"
$17.85
I have always checked in with my clients about their caffeine consumption and some basic supplements like vitamin D. Over the years, as I learned more about the impact of diet on anxiety and what supplements can help and used that learning to assist clients, my clients anxiety improved faster and more profoundly. 
Along the way I took classes on how food and nutrition impact mood and earned a certificate in Integrative Medicine for Mental Health.
I spent several years researching and writing about food and supplements for anxiety. Feed Your Calm: Anti-Anxiety Anti-Stress Diet and Supplement Tips for Stress Resilience is the result of that work.
5. Anti-Anxiety Stress Relieving Hypnosis and Meditation Recordings 
$15
Hypnosis and meditation are great for helping people relax and deal with stress more easily. They can also be used to help people get to sleep.
I use hypnosis with my anxiety clients and have created recordings from some of my scripts.
My hypnosis recordings are organized to listen to any time you have a half-hour to relax (not while driving or doing something that requires your attention) or as you are going to sleep. Most people who listen to them as they are going to sleep find that they get to sleep more easily and have a better sleep. You can fall asleep 2 seconds into the recording and the hypnosis still works. (I know from feedback.)
Here are a couple of my hypnosis recordings that help relieve anxiety and stress, and help with sleep too:
6. Calming Essential Oils
$15 - $45+
There are many essential oils that have calming effects when they are typically smelled (AKA aromatherapy) or absorbed through the skin. They are often diluted with oil before applying to skin. 
If you are new to essential oils—don't be scared away by the tiny bottles they typically come in. With essential oils, a little goes a long way. They are used a few drops at a time.
Look for purity, quality, testing (ie GC/MS testing), association membership (ie NAHA), and presence of the botanical name (not just the common name). 
Avoid supper cheap and synthetic brands.
"100% pure" is NOT always indicative of high quality. Labels can say "100% pure" but only have 5% pure essential oil.
Read reviews of oils to see comments about the quality of the smell they emit. 
Essential oils that research tells us have calming effects include:
Chamomile (Matricaria

 

recutita),
Lemongrass (Cymbopogon

 

citratus),
Lemon balm (Melissa officinalis),
Valerian (Valeriana

 

officinalis), and
Lavender (L. angustifolia),
Holy basil (Ocimum sanctum),
Bergamot (Citrus bergamia),
Rose (Rose centifolia, Rose damascene),
Ylang Ylang (Cananga odorata),

 

and
Frankincense (Boswellia carterii, Boswellia sacara). 
[I talk more about the research behind using essential oils for anxiety in this post: 9 Best Essential Oils for Relieving Anxiety, Stress and Insomnia ]
Frankincense oil seems like it could be a particularly good gift at Christmas time because of it's connection to the biblical stories associated with Christmas.
I noticed that Edens Garden oils had high reviews on Amazon. 
Additionally, some brands produce mixtures of essential oils for anxiety and stress relief. Edens Garden has a set of 3 such mixtures. (The bottles in this set are half the size of those shown above, but the set offers an opportunity for your gift recipient to try a few different blends.)
7. Essential Oil Jewelry 
$10 and up
There are several different ways that jewelry can be used to carry essential oils so that the wearer can enjoy the effects of the aroma all day.
Beads made from volcanic rock, leather straps, cork, or felt pads incorporated into jewelry can absorb essential oils.
Here are some examples (Click on the pic to see it on Amazon):
8. Fidget Spinner Rings 
$12 - $100+
Another type of jewelry that can help people deal with stress and reduce anxiety is a fidget spinner ring. I have a client who has been wearing fidget spinner rings for years and swears by them for stress relief. She likes wearing the spinner ring on the finger next to her thumb for easy spinning. 
Fidget spinner rings are designed so that an element, such as a bead or separate band, can be spun and played with. It has a calming effect for some people.
These rings are available in styles geared toward both men and women. 
Look out for sharp edges on some of the cheaper products, spinners that don't really spin, and noisy spinners. It's helpful to read the good and bad reviews to find out what people's experience is with particular rings.
Some of the spinner rings on Amazon offer generous refunds. 
Here are some examples (Click on the pic to see it on Amazon):
 

("60-day full refund guarantee") 

("100% Money Back Guarantee")
9. Weighted Blankets for Stress Relief and Help Falling Asleep
$100-$200
Weighted blankets are throws and bed blankets that have been made to weigh around 10-20 pounds by adding glass beads or other weighted materials.
The basic concept behind their soothing benefits is that they are comforting like a hug. There is reason to believe that they stimulate the release of serotonin and dopamine. Both of these are feel-good relaxing neurotransmitters. 
I learned about weighted blankets from one of my anxiety clients. He is very excited about the anxiety-reducing sleep-assisting benefits he is getting from the weighted blanket that his wife gave him as a gift.
Before recommending weighted blankets to other clients, I set out to examine the research behind them and learn what to look for when purchasing a weighted blanket.
I am impressed with the possibilities weighted blankets offer for stress reduction and sleep improvement.
I was initially befuddled by the number of considerations when comparing different brands and felt like I needed to hone in on some recommendations so my anxious clients wouldn't be overwhelmed and stressed by so many choices. That led to a couple of weeks of research and the creation of an excel spreadsheet to compare brands using 12 qualities/attributes of the blankets.
For more on the research behind using weighted blankets for stress, anxiety, and sleep, check out my blog post: How Weighted Blankets Work for Anxiety and Sleep
Click here to see my Best and Worst Review lists for weighted blanket brands. 
10. Saunas
more than $1000
Saunas are known for their relaxing effect. Research is demonstrating that they have impressive possibilities for bettering physical and mental health including reducing anxiety, boosting mood, and improving sleep.
I write extensively about the research behind using saunas for health in my blog post Physical and Mental Health Benefits of Using a Sauna. 
I researched saunas several years ago when I was purchasing one for myself. I went with a Sunlighten Infrared sauna because of their high quality and the fact that it is the brand a local doctor who specializes in detoxification was using for his patients. My recent research is still bringing this company to the head of the list.
To check out Sunlighten Infrared Saunas, click here.
Disclaimer: Nothing on this page or website should be taken as medical advice. It is always advisable to check with personal medical professionals before using natural remedies.