20 Best Famous Dr Seuss Quotes with Graphics
20 Best Famous Dr Seuss Quotes with Graphics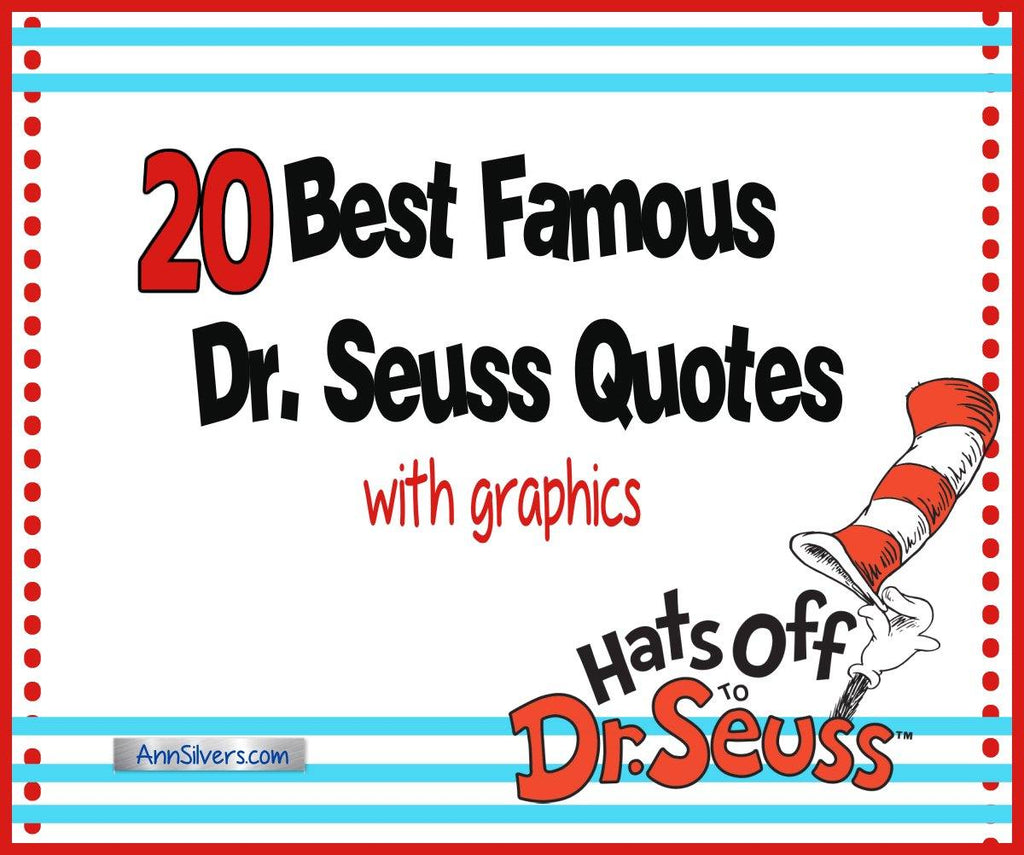 I loved reading Dr. Seuss books to my kids. The way he presented simple uplifting ideas with rhythm and rhyme made them so much fun. Now, I find that I am inspired and energized by many of those same sentences and also by other quotes from the author. Here's my collection of the 20 best famous Dr. Seuss quotes. (And some thoughts about the Dr. Seuss racist content controversy.)
What's in This Post
Who is Dr. Seuss? (Including the Dr. Seuss Racist Content Controversy)
Dr. Seuss Quotes about Your Uniqueness
Dr. Seuss Quote about Stretching Yourself
Dr. Seuss Quote about Using Your Thoughts for Good
Encouraging Dr. Seuss Quotes
Funny Dr. Seuss Quotes and Dr. Seuss Quotes about Funny
Dr. Seuss on How You Need to Look In Order to See
Serious Seuss 
Dr. Seuss on Writing
Throughout the post, I also include information about self-help books and products that I've created while working with people like you over decades of counseling private practice. 
Who is Dr. Seuss?
First, a little bit of trivia about Dr. Seuss. 
Dr. Seuss' real name is Theodor Seuss Geisel.
He wrote and illustrated his most famous children's books, like Cat in the Hat, Green Eggs and Ham, Horton Hear's a Who, and The Grinch Stole Christmas in the 1950's and 60's. 
Update March 3, 2021. The Dr. Seuss Racist Content Controversy
March 2, 2021 Dr. Seuss Enterprises removed six books from its catalogue because of racist themes and depictions:
"And to Think That I Saw It on Mulberry Street"(1937), "McElligot's Pool," (1947), "If I Ran the Zoo" (1950), "Scrambled Eggs Super!" (1953), "On Beyond Zebra!" (1955), and "The Cat's Quizzer"(1976).
I've never read these books, but I have now seen some of the pages from these books and I am happy to see Seuss Enterprises take the action of removing them from publication. 
While I still appreciate the quotes I include in this post, I am researching further to get a bigger picture of the issues raised by recent publicity. I am hoping that the sentiment that he evolved from a racist past to become anti-racist is true.
I dug a bit to see the publication dates of the removed books. (I included the dates in the list above. The Dr. Seuss wikipedia page includes a list of his books and publication dates.) 
The fact that one of the books pulled for racist content was written in 1976 is undermining my confidence in the evolution to anti-racism argument--but I'll continue to look into it. Possibly he became less racist but didn't make it all the way to recognizing all the prejudice held within his world view. 
I am finding this article eye-opening and thought-provoking:
Ishizuka, Katie and Stephens, Ramón (2019) "The Cat is Out of the Bag: Orientalism, Anti-Blackness, and White Supremacy in Dr. Seuss's Children's Books," Research on Diversity in Youth Literature: Vol. 1 : Iss. 2 , Article 4.
(If you click on the title link, there's a download button for the full article.)
To quote Dr. Seuss: "Unless someone like you cares a whole awful lot, nothing is going to get better. It's not."
Dr. Seuss Quotes about Your Uniqueness
1. "Why fit in when you were born to stand out?" - Dr. Seuss
2. "Today you are You, that is truer than true. There is no one alive who is Youer than You."-- Dr. Seuss
Dr. Seuss Quote about Stretching Yourself
3."If you want to catch beasts you don't see every day, You have to go places quite out of the way, You have to go places no others can get to. You have to get cold and you have to get wet, too." -- Dr. Seuss
(I talk about stretching yourself in my blog post: Stretch Your Comfort Zone and Take the Comfort Zone Challenge )
Dr. Seuss Quote about Using Your Thoughts for Good
4. When I'm working with people with anxiety, it's really important for them to learn to stop awfulizing or catastrophizing: dwelling on worse-than-worse-case scenarios. (I talk about it more in these posts: The Catastrophizing and Anxiety Connection, 4 Step Thought Blocking or Thought Stopping Technique ). I appreciate this Dr. Seuss quote for how it encourages you to choose what you think about. It could possibly help you pull out of negative thoughts. It can also help you use your imagination for creative problem-solving.
"Think! You can think any Think that you wish!"-- Dr. Seuss
Encouraging Dr. Seuss Quotes
5."Kid, you'll move mountains! Today is your day! Your mountain is waiting. So get on your way!"  -- Dr. Seuss
6."When something bad happens you have three choices. You can either let it define you, let it destroy you, or you can let it strengthen you." -- Dr. Seuss  

7."It's not about what it is, it's about what it can become."  -- Dr. Seuss  
Funny Dr. Seuss Quotes and Dr. Seuss Quotes about Funny
8. "You're in pretty good shape for the shape you are in." -- Dr. Seuss
9. "I like nonsense, it wakes up the brain cells." -- Dr. Seuss 

10. "From there to here, and here to there, funny things are everywhere." -- Dr. Seuss, One Fish, Two Fish, Red Fish, Blue Fish book. (For some silly fun, I put 5 happy faces in this pic. Can you find them?)
11. "Fantasy is a necessary ingredient in living. It's a way of looking at life through the wrong end of a telescope. Which is what I do. And that enables you to laugh at life's realities." -- Dr. Seuss
12. "I know it is wet and the sun is not sunny, but we can have lots of good fun that is funny." -- Dr. Seuss
Dr. Seuss on How You Need to Look In Order to See
13. "If you keep your eyes open enough, oh, the stuff you will learn. Oh, the most wonderful stuff." -- Dr. Seuss in "Oh, the Places You'll Go!"
14. "You'll miss the best things if you keep your eyes shut." -- Dr. Seuss
Serious Seuss 
15. "Don't cry because it's over. Smile because it happened." -- Dr. Seuss 
16. "Unless someone like you cares a whole awful lot, nothing is going to get better. It's not." -- Dr. Seuss 
17. "It's a troublesome world. All the people who are in it are troubled with troubles almost every minute. You ought to be thankful, a whole heaping lot, for the places and people you're lucky you're not." -- Dr. Seuss
18. "Everything stinks 'till it's finished." -- Dr. Seuss
Dr. Seuss on Writing
19. "The main problem with writing in verse is, if your fourth line doesn't come out right, you've got to throw four lines away and figure out a whole new way to attack the problem. So the mortality rate is terrific." -- Dr. Seuss 
20. I particularly like this quote from Dr. Seuss because I strive to write self-help books and create therapy materials that get to the heart of topics quickly and make concepts easy to grasp and put into action. 
"So the writer who breeds more words than he needs, is making a chore for the reader who reads." -- Dr. Seuss 
I currently have 16 books available on Amazon in print and eBook versions. Click here for a full list of my books, workbooks, and journals.