Johnny Depp and Amber Heard Relationship and Legal Battles Timeline
Johnny Depp and Amber Heard Relationship and Legal Battles Timeline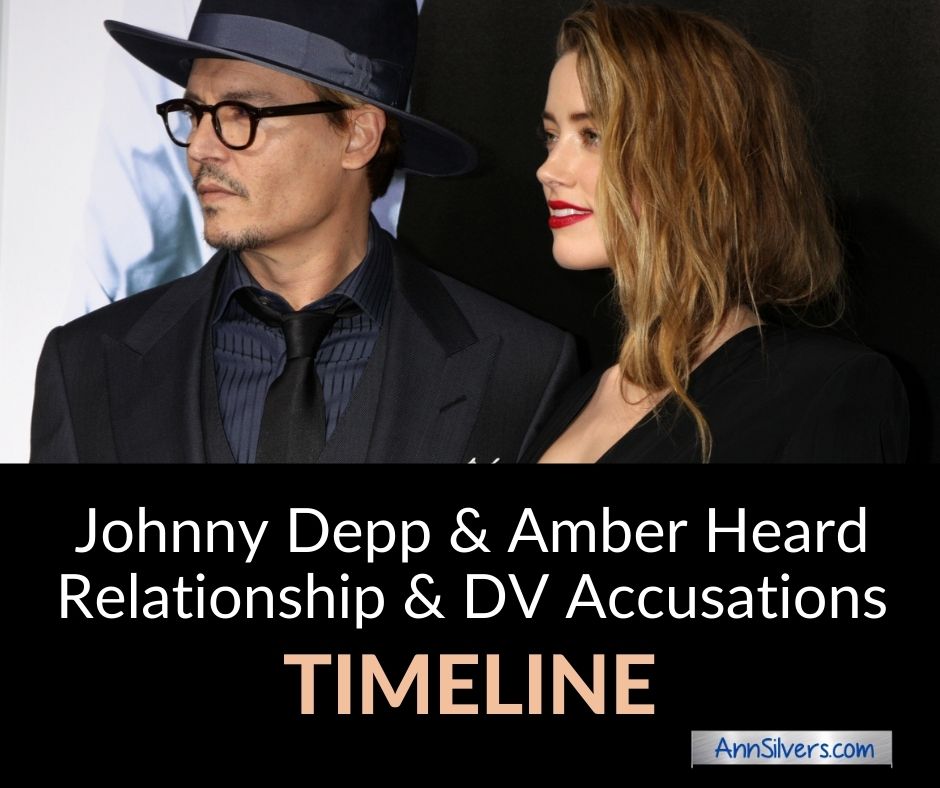 Are you wondering what happened with Johnny Depp and Amber Heard? Are you having trouble sorting out who's telling the truth as Johnny Depp and Amber Heard accuse each other of domestic violence?
As a counselor who has done a lot of research into domestic violence and written several books about partner abuse, including a book about women abusing men, I've been watching this case with a great deal of interest.
I became interested in Johnny Depp and Amber Heard's competing allegations of partner abuse after Johnny's UK trial against the Sun regarding the newspaper's career-destroying "wife beater" article about him. Prior to Johnny and Amber's televised defamation trial I did a deep dive into their tumultuous relationship. 
The testimony and much of the background documents from the UK trial was made available online. From my review of the information that I found, I came to believe that:
Johnny Depp did not abuse Amber Heard. (For someone else's opinion, check out Teresa Silva's in-depth analysis of the veracity of Amber's accusations published in the Journal of Forensic Psychology Research and Practice article, "Assessment of Credibility of Testimony in Alleged Intimate Partner Violence: A Case Report.") (The jury in the US trial also came to this conclusion.)

Amber Heard abused Johnny Depp in most of the 7 forms of partner abuse, (physical, sexual, financial, legal, verbal, spiritual, and emotional/psychological) to the point that she has tortured and tormented him.

Amber falsely accused Johnny of domestic violence to control, demean, and punish him. (Partner abuse can be driven by any of 3 motivators: control, demean, or punish. Amber's false accusations of abuse hits the trifecta of partner abuse motivators.) 

Besides her motivations to abuse Johnny with her false accusations, Amber played the Domestic Violence Victim Card to get attention and admiration. Amber set herself up as a victim-hero. Like her superhero movie character, she swoops in as a savior for women who have been abused. (The timeline exposes suspect timing of her public "advocacy" efforts and promotion of her movie Aquaman.)
The Johnny Depp v Amber Heard US trial brought much more evidence to light and gave everyone the chance to witness testimony of both parties for themselves. It confirmed what I had concluded from the publicly available information pre-trial. 
I realize that it is challenging for people to recognize partner abuse when it is an abusive woman abusing her husband or boyfriend. I address this cultural blind spot in another post: Why is it So Hard To Recognize Abuse OF Men BY Women as a Problem?
Disclaimer: I'm NOT offering an official or legal diagnosis of anyone here. I'm just sharing my observations based on what I have seen. I have never met with any of the involved parties personally. 
As you review this timeline, please leave a comment below the post if you notice any mistakes, then I can work to fix them. Thanks.
Timeline of Johnny Depp and Amber Heard Relationship, DV Accusations, and Legal Battles
Are you wondering when did Johnny Depp and Amber Heard meet? get married? start fighting? get divorced? What were the Amber Heard and Johnny Depp trials about?
I put together this timeline to help me make sense of Johnny Depp and Amber Heard's relationship and the accusations of partner abuse. 
I've included links to articles and documents for those who want to learn more about the case for and against each of them. 
The Beginning of Amber and Johnny's Relationship to Their Marriage
 2009

 

Amber Heard arrested for domestic violence re assault on her then-partner Tasya Van Ree, in Seattle-Tacoma International Airport, Amber spent the night in jail, charges weren't pursued because neither were WA State residents

2009

 

Johnny Depp and Amber Heard meet filming movie "The Rum Diary"

2012

 

Depp split from partner of 14 years Vanessa Paradis (mother of his 2 children, Lily-Rose and Jack)

2012

 

Heard split from Tasya Van Ree

2014

 

Depp/Heard announce engagement

May 24, 2014

 

Flight from Boston to LA (private plane)

There are competing allegations of abuse between AH & JD on this flight. 

Also on the flight: Stephen Deuters, Nathan Holmes, Jerry Judge,
Savannah McMillan, Keenan Wyatt, and a flight attendant

Aug 2014

 

Johnny detoxing on his island

- with him: Amber, Psychiatric Nurse Practitioner Debbie Lloyd (testimony 4/18/22), and others 

- Dr Kipper, MD present for a time (testimony 4/14 &18/22)

- Amber claims Johnny physically abused her while on the island

- Johnny claims that Amber withheld medications from him that were prescribed to ease the detoxing process

Before detox was completed, they all returned to LA and Johnny continued the detox at home.

 
Amber Heard and Johnny Depp Marriage
Feb 3, 2015

 

Johnny Depp and Amber Heard wedding

Mar 8, 2015

 

Amber visits Johnny in Australia where's he's filming Pirates of the Caribbean. 

Johnny's fingertip is severed 

Johnny says: Amber was angry about a request from his attorney that Amber sign a post-nuptial agreement. Amber became violent and threw bottles at him. One of the bottles severed his finger. She also burnt his face with a cigarette. Johnny had locked himself in "at least 9" bathrooms and bedrooms trying to escape Amber's assaults. (Click here for video of JD's deposition re Amber throwing a vodka bottle at him and severing his finger. Click here for Johnny's testimony during the Virginia Defamation Trial about the finger severing.)

Amber says: Johnny went into a multi-day drug-fueled rage, tore up the place, beat her, chocked her, threw bottles and cans at her, accidently severed his own fingertip, ripped her clothes off of her, and raped her with a bottle that she wasn't sure was broken or not. She also claims that she was slipping on broken glass and she "lost control of her bladder." (See: Amber's witness statement for the Sun libel trial p 23-30; and Amber's testimony during Virginia Trial. TRIGGER ALERT: Amber's testimony is very graphic.)

NOTES:

During Amber's dramatic testimony in the Virginia trial, especially starting around time stamp 30:00ish forward, her facial expressions, sounds she's making, and actions with a tissue, represent weeping BUT there are no visible tears or nose drainage. This was a common pattern in her testimony that day. 

Though Amber describes being severely assaulted in multiple ways and walking on broken glass, she did not seek medical assessment or assistance. (See Amber's cross-examination by JD's attorney, timestamp 47:35 to 49:07). 

JD and AH talk about the finger severing incident in a later recorded conversation. JD describes locking himself in various rooms to get away from her while AH criticizes him for "escaping". Absent from this conversation is any mention of events that Amber would later claim happened. Ask yourself: Does Amber's repeated criticism that JD kept trying to "escape" sound like something an abused person would say or an abuser would say? (Timestamp 1:12 to 2:46 of Law & Crime's compilation of audio recordings presented at the Defamation Trial.)

Amber secretly recorded herself, Johnny, Dr Kipper, Nurse Lloyd, property manager Ben King, and Johnny's security lead Jerry Judge as they deal with the aftermath of the incident, try to find Johnny's severed finger, and talk on the phone to another person. Parts of the audio can be heard in New Unheard Audio Recording From Australia Is Proving Amber Heard WRONG! This recording was not included in the Virginia trial. 

May, 2015

 

Authorities in Australia discover Amber Heard brought dogs into the country illegally

July, 2015

 

Aug, 2015

 

Johnny and Amber honeymoon in Malaysia onboard the Eastern & Oriental Express train

mid-Sept, 2015

Johnny and Amber in 

Toronto

 for Danish Girl premier 

late-Sept, 2015

Johnny and Amber in

 

Rio

 

for JD's concert

Sept 26, 2015

 

Audio recordings of conversation between Johnny Depp and Amber Heard were made at this time. Portions were presented as evidence by JD at The Sun libel trial in 2020 and Defamation trial in 2022. 

 A few excerpts from the recordings:

Amber: "I was hitting you. It was not punching you. Babe, you're not punched. . . You didn't get punched. You got hit. . .. I did not punch you. I was hitting you."

Amber: "I can't promise you I won't get physical again. God, I f**king sometimes get so mad, I lose it." 

Johnny: If things get physical, we have to separate. We have to be apart from one another. Whether it's for f**king an hour or 10 hours or f**king a day, we must. There can be no physical violence.

______________________

I transcribed the entire 2 hours of recordings and offer analysis of some parts that stand out to me: Johnny Depp and Amber Heard Audio Recording Sept 2015 Transcript and Analysis

Sept 27, 2015

 

Amber emails psychologist Dr Laurel Anderson, who she was previously introduced to by a close friend, asking for a first marriage counseling session.

 

Oct and Nov, 2015

 

Sessions with psychologist Dr Anderson (she would later testify during JD v AH defamation trial in the US):

Joint sessions: Oct 1, 14, 21 and Nov 12

Amber alone: Oct 6 & 24

Johnny alone: Oct 7

_________________________

Click here for my analysis of Dr Anderson's testimony.

Dec  2015

Dec 15, 2015: Amber has individual phone appointment with marriage counselor, Dr Anderson: the session notes include that Amber reported that: "she slapped him as he sat there talking incoherently."

Dec 17, 2015: Amber meets with Dr Anderson in-person to show her facial bruising and present pictures of her facial bruising

Dec 2015: Date related to AH allegations published in People magazine June 1, 2016 that she was abused by Johnny to the point that "I truly feared for my life" (pictures released to People magazine during divorce negotiations)

Jan 13, 2016

Amber individual appointment with marriage counselor, Dr Laurel Anderson 

Dr Anderson's testimony about this appointment seems to include: 

"There was nothing about physical abuse. Nothing in that next session. It was all about Christmas, and her therapist telling her one thing. .."

April 21, 2016

 

Johnny Depp attends a meeting with his new business manager in which he is informed that his recently-replaced long-time business manager mismanaged his funds: he has lost $600Million and owes $100M to the IRS for 17 years' worth of unpaid taxes.

JD is late for Amber's birthday party because of the meeting. He texts Amber throughout to explain his tardiness to her party. Amber is very angry. 

There is a fight and Johnny leaves the penthouse apartment.

Amber later claimed that Johnny physically abused her after the party. (One of the allegations in Amber's Request for a Restraining Order in May 2016.)

Johnny accuses Amber of physically abusing him after the party: "Ms. Heard punched me repeatedly in the face as I lay in bed reading after the party, leaving me with an egg shaped swelling under my left eye." (Johnny Depp declaration May 2019.) 

(See The Sun UK libel trial transcript p 527-536.)

Amber throws Johnny's phone and attached wallet off the penthouse balcony. (See declaration from one of their security guards who tried to find the cell phone the next day.)

April 22, 2016

 

Johnny is informed by a housekeeper that there is feces in his bed.

Amber claims it was left by one of their small dogs. 

Johnny concludes that it was not possible that the small dog created the feces and that it was purposefully left there by Amber or one of her friends (iOTillet Wright). (See UK trial transcript p 538-540.)

(The housekeeper, Hilda Vargas, made a statement in 2019 confirming that the feces was a large quantity unlike feces produced by the dogs.)
Johnny Depp and Amber Heard Divorce Timeline

4/22/2016

 

Johnny Depp decides to end the relationship and left Amber Heard permanently.

AH remains living in his Penthouse while JD lives in his other Hollywood house.

5/20/2016

 

The death of Johnny Depp's mother after a long illness. (They were close.)

According to Johnny, in a phone call, he told Amber that he would be filing for divorce.

5/21/2016

 

Johnny goes to the Penthouse to retrieve some personal possessions. (He has not been there for a month.)

JD and AH argue.

Amber's friend calls 911 for her to report domestic violence. 

LAPD Police report that they found no evidence of domestic violence. 

Police bodycam footage in Johnny and Amber's penthouse contradicts DV allegations.

Amber would later accuse Johnny of being violent—including hitting her and badly bruising her face—during this meeting. 

_______________________________

-------- I detail this event from the perspective of Johnny, Amber, the police, and witnesses in another blog post: Johnny Depp and Amber Heard May 2016 Domestic Violence Abuse Accusation, What Happened? --------------

5/22/2016

 

Johnny leaves CA for the east coast to prepare for a previously scheduled tour with his band, Hollywood Vampires. He doesn't plan to return to CA for a couple of months.

5/23/2016

 

Amber Heard files for divorce citing "irreconcilable differences", asking for $50K/month alimony and other financial support

5/24/2016

 

Amber is in Johnny's West Hollywood home and meets with her stylist, Samantha McMillan. Samantha would later submit a declaration that she was close to Amber's makeup-free face and saw "no visible marks, bruise, cuts, or injuries to her face or any other part of her body."

Amber's attorney sends letter to Johnny's business attorney accusing JD of "violently attacking and threatening Amber on May 21st" and other acts of domestic violence. "Amber is afraid of Johnny" but "she strongly insists that we do everything to keep this personal matter out of the media spotlight" and that's why "we did not arrange for Johnny to have been personally served at last night's movie premier."

After this thinly veiled threat, they go on to make financial demands which must be met "by the close of business on May 27, 2016." 

While the letter says Amber is afraid of Johnny, it does not ask that Johnny stay away from her. It does ask for alimony, exclusive use of 3 penthouse apartments at Johnny's expense, $100k for attorney fees, and other payments. 

5/27/2016

 

Johnny has not complied with Amber's financial demands

Johnny is in Europe with his band, Hollywood Vampires, for a tour beginning with a Lisboa, Portugal concert on this date.  

Amber files emergency ex-parte Request for Restraining Order etc. accusing Johnny of domestic violence including throwing phone at her on May 21: "During the entirety of our relationship, Johnny has been verbally and physically abusive to me."  

Amber's attorney confirms that she sent the May 24 letter to Johnny's business attorney. She claims that they have to do the emergency restraining order because that attempt to settle out of court failed. [But recall that the letter only pressed Johnny to agree to their financial terms or else they would go public. It did not even mention Johnny staying away from Amber.]

Amber's emergency request also reiterates her financial demands. (Remember that AH and JD were married for about a year.)

 

 

The TRO hearing is held on the same day as the emergency request. Heard appears outside of court with "bruise" on her cheek.

5/28/2016

 

Amber is photographed coming out of a meeting with her lawyers. She appears to have little, if any, makeup on and doesn't appear to have a "bruise" on her cheek. 

Note: Photos of Amber May 27 appear in multiple newspapers and magazines. May 28 pics appear in a mags/papers including US Weekly. 

5/27/2016

 

Johnny's attorney's response to Amber's Request for Restraining Order:

"Amber is attempting to secure a premature financial resolution by alleging abuse."

There was no need for an emergency hearing.

The bulk of Amber's requests are financial and these are not typically taken up on an emergency basis.

"Johnny is willing to stipulate to mutual stay-away and personal conduct orders even though he and Amber are on different continents, as Amber is aware."

6/1/2016

 

People magazine publishes photos—supplied by Amber— showing her with black eyes and bruised lip. Title: "New Photos Show Amber Heard's Injuries Allegedly Caused by Johnny Depp in Another Domestic Violence Incident"

Summer 2016

 

A recording was made of a telephone conversation between Johnny and Amber during divorce negotiations. (The recording appears in a Daily Mail article. The full 30-minute recording is attached to a video near the end of the article. At the bottom of the article is a transcript of the call.) (The audio is also on YouTube. And part of the recording was presented in the Virginia Defamation Trial: See timestamp 5:25:10 to 31:57, Day 8 of the trial.)

This recording is very damaging to Amber. She is using society's blindness to the reality that sometimes women can and do physically abuse their male partners to cover her.

Amber: 

"Tell the world Johnny, tell them Johnny Depp, 'I Johnny Depp, a man, I'm a victim too of domestic violence.'"

"You're going to get up on the stand, Johnny, and say, 'she started it'? Really?"

"And see how many people believe or side with you."

 

8/16/2016

 

Divorce settlement: Depp to pay Heard $7 Million, Heard to get the dogs, both agree to not disparage the other publicly, Heard withdraws requests for DV restraining order and alimony

8/18/2016

 

Amber Heard releases statement that she will donate her $7M divorce settlement to the ACLU for victims of DV and the Children's Hospital LA

"As described in the restraining order and divorce settlement, money played no role for me personally and never has, except to the extent that I could donate it to charity and, in doing so, hopefully help those less able to defend themselves.. . .

The donation will be divided equally between the ACLU, with a particular focus to stop violence against women, and the Children's Hospital of Los Angeles . . ."

[Amber got an enormous amount of positive press from this for years. Media took it to be a fact that Amber did this generous act. She admitted in 2020 that she had not made the donations and Johnny's team had to do major digging to find out what actually happened.]

 

11/25/2016

 

Amber does a video domestic violence victims PSA entitled 'SPEAK UP' for the Girlgaze Project. 

The video is the focus of many online magazine articles, but all of them have the "video unavailable" when I was looking for it Dec 2021, for example in this NY DailyNews article:

I found the video here.

Dec, 2016

 

Amber writes "An open letter to Porter Magazine," a fashion magazine that is running a big article on her in their Fall 2016 edition. The "open letter" gets picked up by many online media outlets.

"You may have suffered alone behind closed doors, but you are not alone. You need to know that. I want to remind you of your strength, a strength that has been multiplied by the number of women who stand silently behind you—a truth that allowed me to break down the doors I once found myself behind… Let's start with the truth—the cold, hard truth. When a woman comes forward to speak out about injustice or her suffering, instead of aid, respect and support, she will be met with hostility, skepticism and shame. Her motives will be questioned and her truth ignored… I never felt like anyone would or could rescue me, so naturally I resented the label of 'victim.'"

Jan, 2017

 

Heard/Depp divorce finalized
Johnny Depp Defamation and Libel Lawsuits and Trials Timeline
4/27/2018

 

Sun Newspaper, London, UK, runs a story based on Heard's domestic violence accusations against Depp. The Sun original wife beater article:  "Gone Potty: How can J.K. Rowling be 'genuinely happy' casting wife beater Johnny Depp in the new 'Fantastic Beasts' film?"

6/1/2018

 

Johnny Depp sues The Sun for libel

Oct 2018

 

Amber designated as "ACLU Ambassador for women's rights, with a focus on gender-based violence"

I accessed ACLU webpage 4/28/2022 for the quote above. I accessed it again 8/19/23 and they still list Amber Heard as an ACLU Ambassador and are still promoting their shared Washington Post article that the US jury found to be defaming of Johnny Depp. 

10/20/2018

 

Amber is a speaker at the One Young World conference in the Netherlands. She is there as an advocate for justice for all.

Amber is then interviewed regarding her speech by RTL, a Dutch broadcast.

During the broadcast, the interviewer fawns over how great and noble Amber is and Amber takes the opportunity to once again declare that she has donated the entirety of her divorce settlement to two specific charities. 

Interviewer (9:25): Then there was a divorce settlement. You got $7Million. People were saying this is all about the money, but then you did something that twisted that whole argument. What did you do with the money?"

Amber Heard (9:34): "Seven Million Dollars in total was donated to. I split it between ACLU and Children's Hospital of Las Angeles. . . .I wanted nothing."

Note that Amber clearly states that the "total was donated"--past tense.

During the 2022 Defamation Trial in Virginia, it would be exposed that Amber did NOT make the donations. When Amber is caught in this lie, she tries to equate "pledged" with "donated."

12/11/18

 

A $350K donation is made to ACLU through an anonymous donor designating it to Amber Heard's $3.5M pledge

Note that this is after AH interview above and a few days before her WaPo op-ed (see next timeline entry)

Total payments ACLU connected to AH's pledge (as of Dec 2021 deposition of ACLU attorney):

$100K made by JD toward AH's pledge
$350K directly from AH, Aug 2016 (only payment directly traceable to AH)
$500K made by Elon Musk toward her pledge
$350K made thru Fidelity charity fund 

 

12/18/2018

 

Amber writes an op-ed for the WaPo presenting herself as a maligned victim of domestic violence

The photo that accompanies the article is from the Dec 12th LA premier of Ambers' first big role: Aquaman, which was being released at this time. (Johnny points this out in his defamation lawsuit against Amber, p 20.)

 

Approx.

Dec, 2018

 

Johnny fired from Pirates of the Caribbean by Disney

Mar 1, 2019

 

Johnny Depp vs Amber Heard: Depp sues Heard for defamation over the Washington Post article. The case is in Fairfax County, Virginia, the site of the WaPo printing presses.

 

Johnny's declaration for the defamation lawsuit:

"I am bringing this lawsuit not only to clear my name and restore my reputation, but to attempt to bring clarity to the women and men whose lives have been harmed by abuse and who have been repeatedly lied to by Ms. Heard purporting to be their spokesperson."

Jul, 2020

 

UK trial re Depp accusing The Sun newspaper of libel

Click for Johnny Depp vs News Group Newspapers trial transcripts.

Click here for witness statements related to the trial.

 

11/1/2020

 

Johnny loses the UK libel trial. The judge declared that The Sun article was "substantially true" and gave Amber's nobility in donating her $7M divorce settlement as a basis for his decision. (While Amber testified during the UK trial that all of her $7M divorce settlement had been donated to the ACLU and LA Children's Hospital, this would later be proven to be false.) 

Click here for the entire judgement decision. 

 

 

11/5/2020

 

Johnny receives letter from Warner Bros: asks him to resign from the Fantastic Beasts movie role.

Feb, 2021

 

MGM postpones US release date of Depp's film "Minamata" to TBA

4/13/2021

 

Heard requests that the US defamation case against her be dismissed because of the UK trial result.

Aug 17, 2021

 

US Judge rejects Amber's motion to dismiss Johnny's defamation case re the UK WaPo op-ed

Aug, 2021

 

NY judge grants Depp's petition to determine whether Heard donated the $7 Mil divorce settlement as she claimed 

Oct, 2021

 

Australian authorities confirm that they are investigating Amber for perjury in the 2015 dog importation case

11/4/2021

 

JD wins ruling giving him access to AH's phone re whether she doctored pics of herself alleging DV injuries

11/8/2021

 

Elon Musk and James Franco called to testify in JD's defamation case against AH

(During Sun trial, Concierge of JD's & AH's building testified: "From March 2015 onwards, Ms Heard was visited regularly late at night, at around 11pm to midnight, by Mr Elon Musk.")

Deposition dates were set for Jan 2022 but there's no record of them happening and neither appeared at the Virginia trial. 

 

April/May 

2022

 

Trial for Johnny Depp v Amber Heard defamation lawsuit re the Washington Post op-ed

Trial schedule:

💥Trial April and May, 2022

Televised and recorded on Law & Crime Network Youtube Channel. 

I transcribed & analyzed testimony from all 3 Psychologists who  testified during the Fairfax, Virginia defamation trial. See these posts:

Marriage Counselor, Dr Laurel Anderson Testimony, Johnny Depp v Amber Heard Def Trial

Forensic Psychologist Dr Curry Testimony Johnny Depp v Amber Heard Trial

and

Psychologist Dr Hughes Testimony for Amber Heard Exposes DV Gender Bias

 

June 1, 2022

 

Decision in Johnny Depp v Amber Heard Defamation Trial

Johnny wins on all 3 counts of defamation from Amber.

Johnny awarded $10M in compensatory damages and $5M in punitive damages. All 3 statements Johnny proposed to be defamatory in Amber's op-ed were found to be defamatory. 

Defamation (Therefore based on a false narrative):

"Amber Heard: spoke up against sexual violence —and faced our culture's wrath, That has to change."

"Then two years ago, I became a public figure representing domestic abuse, and felt the full force of our culture's wrath for women who speak out."

"I had the rare vantage point of seeing, in real time, how institutions protect men accused of abuse."

Amber wins on 1 of 3 counts of defamation

One of three statements made by Johnny's attorney, Adam Waldman at end of the UK Sun trial found to be defamatory. She loses on the other 2 counts.  Awarded $2M in compensatory damages and $0 (zero dollars) in punitive damages.

Not Defamation (Therefore true):

"[W]e have reached the beginning of the end of Ms. Heard's abuse hoax against Johnny Depp."

"Amber Heard and her friends in the media use fake sexual violence allegations as both a sword and shield, depending on their needs. They have selected some of her sexual violence hoax 'facts' as the sword, inflicting them on the public and Mr. Depp."

Defamation (Therefore something about it not proven to be false):

"Quite simply this was an ambush, a hoax. They set Mr. Depp up by calling the police but the first attempt didn't do the trick. The officers came to the penthouses, thoroughly searched and interviewed, and left after seeing no damage to face or property. So Amber and he friends spilt a little wine and roughed the place up, got their stories straight under the direction of a lawyer and publicist, and then placed a second call to 911."

Therefore: The jury did agree that Amber's stories about being abused by Johnny are a hoax. They didn't agree that the 3rd statement was all proven to be false. (Note that the 3rd statement mentions collaboration with others. It seems likely that jurors had a problem with that part.)

 

NOTE: The $5M in punitive damages was later reduced to $350,000 by the judge because of Virginia limitations on punitive damages.