Ann Silvers Interviews about Abusive Women and Abused Men
Ann Silvers Interviews about Abusive Women and Abused Men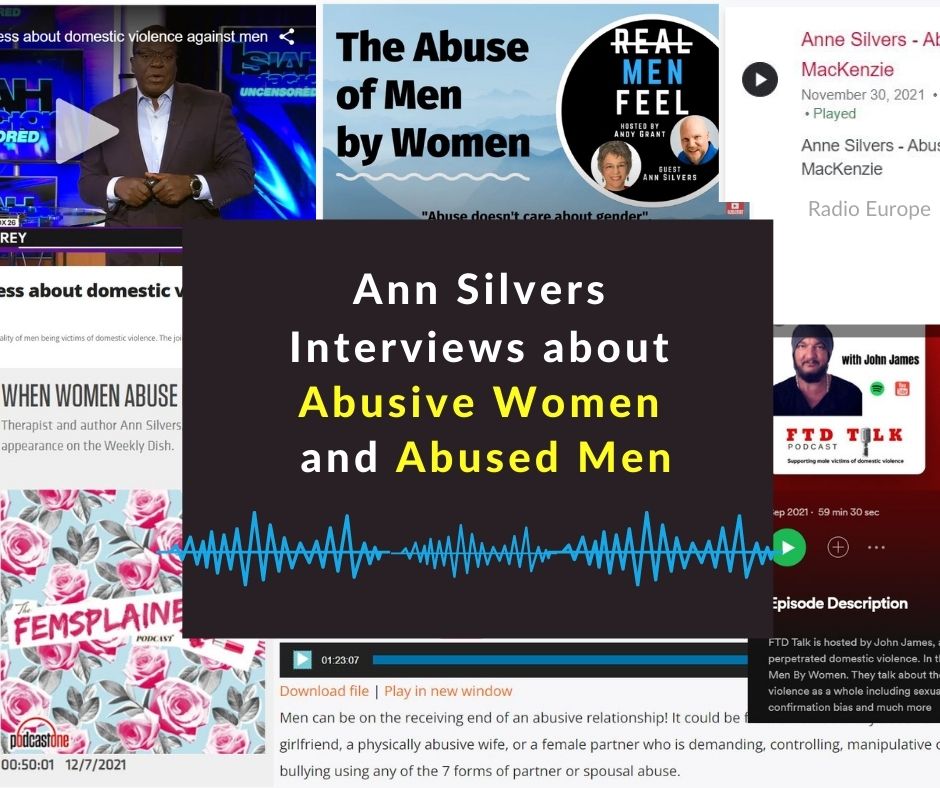 Because of my book Abuse OF Men BY Women: It Happens, It Hurts, and It's Time to Get Real About It, I've done many radio, TV, and podcast interviews explaining how and why some women abuse their husbands and boyfriends, and what can be done to help. Here are links and summaries for some of my interviews.
Click on the titles or graphics to go to sites that host each interview.
When Women Abuse Men: It's Real so Why Don't We Talk About It?
My portion of this Femsplainers Podcast episode starts at 9:40. 
Some of the topics we cover in the Femsplainers podcast (with links to related blog posts):
In this podcast, I talk about ways women abuse men, and make mention of the Johnny Depp and Amber Heard story as an example of people having difficulty believing that men can be abused, while far too easily believing any woman who claims to be a victim of domestic violence. 
I have several blog posts about The Johnny Depp and Amber Heard story: 
The Abuse of Men By Women | Abuse Doesn't Care About Gender

To listen on Spotify, click here. 
Here's a breakdown of the Real Men Feel video podcast. I've added some links to blog posts where I talk more about these subjects. 
(1:01) How did you first get interested in the abuse of men in relationships?
(5:25) How might women abuse men?
(7:01) Is any type of abuse against men most common?
(7:41) Is any kind more harmful?
(8:16) I've long heard that all abusers have been abused, is prior abuse why women would abuse men? (For more info: 72 Reasons Why Women Abuse Men.)
(10:12) Does narcissism show up in emotional abuse too?
(15:05) Does any reason make it more likely than others that someone will be abusive?
(17:03) How does financial abuse show up?
(18:59) What about legal abuse?
(20:42) Are the laws and courts catching up with the fact abuse can go in both directions?
(22:55) What lures a man into such a relationship?
(26:49) Why do men stay in abusive relationships?
(27:41) Do abusers realize they are abusive?
(29:33) Why aren't more people talking about the abuse of men?
(31:50) What do you suggest for a man who realizes he's in an abusive relationship?
(36:47) Anything to share with women who see they are an abuser?
(41:58) Can couples recover from this and have the relationship survive?
(44:16) What can friends, family, society as a whole do regarding the abuse of men by women?
(48:17) What's the best way for people to learn more about what you are up to? Click here for a list of my books on Amazon.
In this podcast, we talk about abuse of men by women and also some advice about healthy relationships. 
Some of the topics that we cover in this podcast and links to my related blog posts and books:
This one is short, but touches on many points including financial abuse and spiritual abuse. 
Note: This Radio Europe interview and several other interviews listed on this page were set up with the help of Domestic Abuse and Violence International Alliance — DAVIA, a network of organizations from around the world with a common goal to "ensure that domestic violence and abuse policies are inclusive, family-affirming, and based on science."
This interview about abusive women is a Houston TV news segment. 
In Issah Factor interview, I mention my post Mental Health and Partner Abuse Resources for Men.
Blair Daly of Equality and Empathy for Boys and Men created segmented videos of our interview. For links to each segment, click here. 
Abuse OF Men BY Women Book